IRIDOLOGIST, ​FAMILY HERBALIST, CECP, CBCP
"Manifest better health starting today!"
Urinary concerns, for the Ladies
Concerns for the Ladies and the urinary system




I am hoping this is going to work... new website format, so one never knows.




Cranberry Juice.

We know it is great for helping get rid of kidney stones.

It is great for urinary tract infections.

And now.... how about this... It can help regulate the bladder!

So it seems for a few of us, cranberry juice helps calm the bladder?

Yes, it is beginning to seem so.

Less dribbling? Fewer trips to the bathroom in the middle of the night?

Sounder sleep?

Yeah, I know. Interesting.

For years we know that Cranberry juice aids in ridding stones out of the kidneys, but some Drs. believe

excess could increase the stone formation. Jury is still out on that one.

And we know that Cranberry juice is good for cleansing the urinary system when there has been a Urinary Tract

Infection.

It also is used a preventative for UTIs.

So what about sleep? What about waking for nighttime urination?

Among some of my clients and family and self.... it seems to help this!

Who knew?!




So if you're experiencing the night time urination, it might pay off to try 4-8 oz of cranberry juice in the evening.




This made me question, 'Why?'

I started looking at the components of cranberry juice.

Nothing out of the ordinary, just good stuff.

Vit C, E, B6, K1, copper and manganese. And the some stuff which is good, A-type proanthocyanidins, which prevents Bacteria from sticking to the tract.

Okay, that's all good. But then what?




What else is being affected?

It seems the LIVER is being affected, for the positive!

And the liver has a direct affect on sleep!

Okay... we are really getting somewhere now!

We know that if we detox the liver, sleep improves.

The liver becomes active in the early morning 1-3 am, according to Chinese Medicine.

It seems the liver can be POSITIVELY AFFECTED by cranberry juice!

GREAT!!! This then may improve sleep.




So the suggestion would be, try some Cranberry juice, use a good quality, 4-8 oz in the evening.

Then we come to the tablets. Yes! These can be used and they seem to be effective also, 2 in the evening.




I will not promise this will work for everyone, but so far we have had some very positive feed back.

We can always schedule a Body Code session for more information about the state of the body.




What about the gentlemen? Well, they have a few other issues to deal with. It won't hurt to try this, but I would suggest more intense evaluations with a Body Code session.




Have a great week with lots of good sleep!

Blessings,

Hk

















































































ANTI-AGING, we're talking about the skin this time!
I am all for it...naturally of course. 
I have several daughters. I spent some time with them this last week and we started talking about skin, wrinkles, premature aging and the rest. The fact is, we ARE going to age, thankfully so as the alternative isn't all that great. The goal here would be to do it in the least painful way possible. 
For my age, and I am eternally 59 at this point, I have pretty good skin. So because my daughters are interested in MORE anti-aging info, I thought to share some of what is out there, at least what I have available right now. There is always more to know, this by no means is everything! No one knows everything!
These are just things which have come across my radar in the past few years. 
I occasionally have used very expensive products, but I find you don't need the most expensive products for good results. And there is also the nutritional factors here. What supplements does one use for warding off extra aging? Like I said, this is what is on my screen right now. It is NOT everything, I am sure.
Here we go!
B VITAMINS
I once read that one symptom of B 6 Vitamin deficiency was wrinkling around the mouth. Enough said! It isn't going to hurt to take a good brand of B-50 or B-100 complex. These are usually very balanced and you won't be getting too much of one or the other. B Vitamins are water soluble, so don't be afraid of getting too much, your kidneys will take out what you don't need. Beef, poultry, fish, garlic and greens are good sources of B 6 also. 
BETA CAROTENE
This converts to Vit A in the body. This is very much anti-wrinkling. Because it is water soluble, you can take it with very little fear of overdosing. Your kidneys will eliminate the excess. I take 50,000 u a day of this, you can use up to 75,000 a day before you start overdosing. (And this is also VERY good for your eyes!)
VITAMIN C
Vitamin C is great for many things. It also generates rapid cell repair. This is good for the skin. You may want to add 1000 mg a day of this to your diet also.
GELATIN!
And guess what else builds collagen? Yep... old fashioned gelatin. It is marvelous for the joints, the eyes, the hair, the nails AND even the SKIN! So how much do I use? 
Well, I use those packets from the grocery store and use one of those a day. I just blend it into my smoothie. It doesn't taste. After a few months, you may find you can maintain with 3-4 packets a week. I have one daughter who gets her gelatin in bulk from health food source on line. In that case she takes 1 tablespoon a day. (And this is marvelous if you have some joint pain!)
GLUCOSAMINE/CHONDROITIN
These also are some of the building blocks of collagen. And collagen keeps the skin elastic and full.  You may take a couple of these a day. You may end up not needing as much later just to maintain. (Also very good for your joints!)
EFAs
These are Essential Fatty Acids. Flaxseed is very good for women, it is a precursor to estrogen. Fish oil for men, flax for women. 
Depending again on your diet, 1000 u a day is a good start.
HORMONES?
Yep, we want those balanced. Some breakouts can be attributed to estrogen imbalance. 
MOISTURIZER!
My mother-in-law, RIP, had great looking skin. Her secret she said was to, "Moisturize, moisturize, MOISTURIZE!" I use a product called Dermae. It has Vit A in it among other natural ingredients. 
MINERALS!
If there is a shortage of minerals in the diet, this can also affect the skin. It is HIGHLY SUGGESTED you get a good mineral supplement. 
WATER! 
It is the number one element to enhance the skin. I had an esthetician(skin specialist) tell me she could tell who drinks enough water and who didn't by how wrinkled their skin was. I immediately started drinking more water! You need to be drinking about half your weight in ounces. You weigh 150 lbs, you drink 75 ounces of water a day. And this needs to be GOOD water. For sure it should be filtered in some way. And you need to be careful of bottled water, sometimes they have fluoride added and you don't want that. We can go into that more in another blog. 
ASEA GEL
Then one of the products I really like is ASEA GEL. It really nourishes the cell structure of the skin. I use it at night. 
Here is one 'interesting' idea: 
HEMORRHOID OINTMENT? 
Yep. It is purported to shrink tissue. So somebody somewhere decided to try it for the wrinkles on the face and had some great results with it. But there is one thing you might note, the ointment which will work the best for this comes from Canada. They have the yeast extract and shark liver oil which are some of the key ingredients for success. 
HYALURONIC ACID
This is added to many skin formulas. It is to help collagen formulation. I think there are some valuable applications with this. It is probably worth a try.
No doubt there are some things here which some gals will not be able to take or use as they, "Break me out!" Well, I wouldn't do that either! But let me remind you, this can be treated! If you are allergic or intolerant, you can always have a session to address that.
If you have questions about dosages, we can address that also.
I did some work for a gal who had a 'pregnancy mask' on part of her face. She was now 40 and wanted to know if I could work on it for her. Frankly, I was a bit skeptical and could not guarantee results. But we did some releases and about 10 months later her son noticed her face and asked what happened. Now without makeup, the dark mask around her face was gone. Well, that was inspirational! So having some darkness on both sides of my neck, I found I had a reason for them and did some releases. Are they gone? No, it hasn't been 10 months yet...BUT! They now are getting very molted looking, breaking up I guess you would say. So now I watch and wait. Many times there are toxicities in the skin which need to be addressed, some are related to gland toxicities. Thankfully, we can address those also. 
I HIGHLY suggest any supplements you take are of a good quality. Cheap isn't always the best, and also at times when you buy the most expensive you're paying for packaging. Just use caution, and get some suggestions. 
Right now I am researching which oils may be of benefit to the skin. So there will more coming on that. There just always is so much more to know!
We are going to age. We can do it well. But please remember, the best thing about your face will ALWAYS be your SMILE!
Keep smiling!
  "Put a smile on your kisser and someone may put a kiss on your smiler!"
Blessings...
Hkelly
As always, if you have concerns, please contact your preferred health care provider. 
Oh, come on! I know there are people who want to know... "IS THIS NORMAL?"
What is normal? Lots of things! Is there anything Abnormal? Several things.
"Disease begins in the colon," according to Dr. Christopher and many others. You haul the garbage out of your house quite regularly, and it is good to get the garbage out of your system regularly also. Sometimes in my mind I just picture an out-house. Any camper has seen one of these. You had to hold your nose to use it. Well, imagine being a walking out- house. Yeah....take the garbage out. 
Dr. Christopher also stated, "There will never be world peace as long as there are a bunch of constipated men sitting around a table trying to discuss it."  This is probably true. I think I have met this type on a few occasions.
So what is 'REGULAR'?
I remember one story told in class by a practitioner about a woman who displayed toxin overload and constipation symptoms. Upon being questioned. She was adament that she was regular!!! So the provider asked her again, "Do you have regular bowel movements?" 
"Yes, she replied I 'go' once a month!" I would love to tell you this is made up. But unfortunately it is true. Some professionals would tell you that a bowel movement once a week is also normal. Please someone, show me somewhere in the animal kingdom, the animal that defecates once a week. I grew up on a dairy farm. I for sure never saw such a creature! So why would it be normal for a human to have a bowel movement every two, three or four days? Okay...it is a misunderstanding. This IS normal or average for constipated people, but it is NOT HEALTHY. A healthy person has two to three bowel movements a day. That would be a goal. 
So what does 'normal' look like?
Usually a light brown, about as long as from your wrist to your elbow, about as round as when your forefinger and thumb are placed together, and soft. As you can tell, this is very individual.  You can worry about that, after you are having the bowel movements.  
NOTE: Any maroon colored stools, or black tarry stools MUST be evaluated by your Dr. This is could be an indication of blood in the stools, and it is serious. 
What causes this constipation?
*WATER? Usually a lack of enough water. Are you drinking enough? A good rule of thumb is one half your body weight, pounds, converted to ounces. So if you weigh 150 lb, you should be drinking about 75 ounces of water daily. We will discuss the types of water later. Also, if the body isn't picking up the water, there will be a problem. We evaluate the usage of the water using the Body Code. 
*MEDICATIONS? Also medications can slow the tract down. Pain killers are notorious for this. There are others also, so we look for medication toxicities. 
*EMOTIONAL ISSUES? Emotional issues are paramount also! Holding onto emotional issues? Uh huh. That may cause a 'holding on' within the body also. We can address these things with TE sessions.
*FIBER? Lack of proper fiber also causes an issue. I know there is a big push right now against grains. I have a problem with that as whole grains are where you get so many useful B vitamins and also the fiber. You just need good old fashioned fiber in the diet from whole grains, fruits and vegetables, raw and even cooked.
*SMOOTHIES? And even some of those nutritional supplements, as great as they are, can cause a problem. To compensate for the lack of fiber in your smoothies, you need to add a tablespoon of olive or coconut oil to keep things moving along. 
*EXERCISE? Lack of exercise is also a big factor. One of the easiest and best is just simply a walk. That's it! But exercise in any form will help. 
*ENZYMES? Or lack there of? Supplements may be needed until the condition can be corrected. And I check to make sure your enzymes are up to par!
*HORMONES? A lack of thyroid hormones can very often cause constipation. But don't bank on getting an abnormal report back on this. You may need to run your own test with your body temperature, should be about 98.6 around 3 pm.
So what can be used to get you 'GOING?'
Dr. Christopher puts out the LOWER BOWEL TONIC. This is just what it states. It is a tonic to heal the issues of the lower bowel. This can be taken over a long period of time to heal the colon and encourage proper responses. Start out with 2 capsules a day, usually at night, then increase until desired results are achieved. After success, start backing down the dosages. You may need to take 2 capsules a day for a few months to heal this tract. If you are needing to take more than 4 capsules a day, consider putting some into your morning routine. 
PSYLLIUM HUSK is a good one also. Just mix a tablespoon or so of this product in some juice the night before and Waa Laa! Success the next morning. Be sure you are drinking plenty of water with this. Many people take 2 capsules of this 2-3 times a day. This keeps things moving along well.
SMOOTH MOVE. One little treat on the market now is a tea. You drink this around 7 PM, and success will be yours in the AM. And the name of this wonderful little product is, get ready for it...."Smooth Move." Yeah, I laughed also. It is a very pleasant tea with wonderful, gentle effects. 
Dr. Christopher also developed a recipe for a healthy little snack which will also help children, or their parents, assure relief from constipation.
DR. CHRISTOPHER'S BOWEL AID
1 pint ground or finely chopped dried fruits, ie apples, apricots, dates, figs,peaches, prune, and or raisins.
Add one ounce powdered slippery elm bark, one ounce powdered flax seed, one ounce powdered licorice root,  and enough sorghum or blackstrap molasses to make moldable. Shape into small round balls and roll them in 1:1 slippery elm bark and powdered carob.
These are plenty sweet, so there won't be a problem getting them down. They are very good for children who might be a little  'slow,' or their parents.
An easy exercise program is the TTap program. It does wonderful things including encouraging regular bowel movements. 
So there you have more info than you ever thought you would want about bowel movements! And there is more....but I think we have talked enough about it for now. Just one more thing, you're not really going to lose any weight until you clear the constipation condition. It is what it is. 
Fruit ball, Anyone? ;-)
Blessings....
HK
Be sure to see your Dr. for any complications.
After this month of mourning due to our loss of Robbin Williams, I thought we would hit this DEPRESSION topic.
If you are alive, you no doubt have had a round of this.
SYMPTOMS:
No energy, loss of energy
Feelings of worthlessness, self loathing, unloved
Feeling trapped 
Feelings of helplessness and hopelessness
Loss of interest in daily activities/ no zest for life
Appetite or weight changes, uncontrolled eating
Sleep changes/sleeping beyond normal times, not sleeping
Anger or irritability
Reckless behavior.
Everybody has an off day or two or week. If yours is lingering beyond a couple of weeks, ask an honest person what they think about your symptoms. And know there is help out there for you. You CAN get to a better place. 
SOME THINGS WE CONSIDER:
Hormones after pregnancy will often generate a depression.
Stress is a big factor for depression. 
Change is always uncomfortable, and it doesn't matter whether it is a good change or a negative one. Lifestyle change, marriage, divorce, death, birth
Chronic health issue causing pain, this can be very depressing
And there is more probably, we just don't know everything about everything.
Did you know you can also see a symptom for depression in the eyes? Yep, in the brain flare area in the top of the iris. We would then also look for the cause. 
So holistically what are approaches for countering Depression?
Let's start with the physical stuff. And please understand... this isn't everything!
B-VITAMINS. A full range of Bs is a very good place to start. If you're in the midst of a depression, go for the B-100s. These are the BRAIN vitamins! They help balance the brain. Sometimes people are allergic or intolerant to the Bs, this needs to be evaluated and addressed. B vitamins are water soluble and do not build up in the system.
Vit D. This is the sunshine vitamin. Many seasonal disorders are helped when Vit D3 is added to the diet. A maintenance dosage is 4-5000 U a day makes a world of difference! If you are very depleted, you may need a higher dose for a week or two. I have heard the "But I am taking 400 U because that is what was recommended."  Well, this is your choice. You are overdosing when you take over 10,000 U a day... and that is questionable. On a nice sunny summer afternoon, your body will make up to 50,000 U and you usually don't have much illness in the summer. Go figure. Vit. D is highly under emphasized in my always humble opinion.
EFAs, Essential Fatty Acids, are also important. These help feed the brain. Flaxseed oil is good for women and Fish oil is good for men. I really like the EFAs Dr. Wallach developed, see products page. I must mention some people are allergic or intolerant of oils, this sometimes is why they don't see results from some of their supplements. We can address this.  
Adequate PROTEIN will help keep the sugar level stable in the body and brain. Nuts make a really good snack, and they are loaded with protein. 
Sometimes a good MINERAL SUPPLEMENT is necessary. We can do an evaluation for this and all the other supplements in question.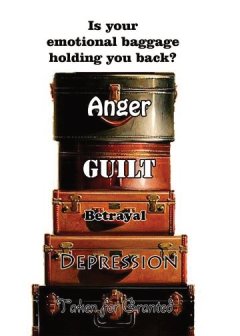 Now let's address emotional issues. 

If you have to go through and airport and drag all of these suitcases with you, it will be exhausting. Going through life and dragging all this with you is exhausting on a long term level... and it can become depressing. 

This week I had a great experience with a client. She has suffered from depression for years. Her husband died 30 years ago, a good friend dropped her a few years later.

She had a miserable, abusive childhood.

So after two sessions addressing the reasons for depression, Client's friend calls me and says they aren't sure how to handle the 'NEW' girl! This client is happy and singing! And.. moving forward with her life now! This isn't an instant fix, it takes about a week to see the difference, but in this case it was quite fast. 

A heart wall, is created by the body as a virtual shield placed around the heart to protect it. This happens when the heart has been close to breaking, the body feels the need to protect it. The only trouble is this shield is made up of the negative energies lying around in the body. This shield, heart wall, prevents the messages of the heart from easily getting out, like wise it prevents messages to the heart to easily arrive. And lets remember, the heart is the second brain, it IS important. The heart TELLS the brain what to feel. The brain does not have feelings. I love you with all my.... HEART! Follow your HEART! I left my HEART in...We never sing about our brain.

So for the Client, we released several heart walls, created at different critical times in her life. 

We also released negative emotions from certain events and memories in her life.

I love watching this transformation! And hearing about it!




Should you start feeling better and you are on medication, DO NOT STOP YOUR MEDICATION WITHOUT YOUR DR.S HELP! Your medication program is between you and your Dr. and he needs to help you wean off. 

After sessions, there have been people who find they can reduce their levels of medication and some find they actually can wean off of medication, with their Dr.s help.




If there was one message that needs to be broadcast, it is...

                          THERE IS HELP! Please don't give up!




Why not go for a miracle? There are some great blessings awaiting those who go after them.




Have a happy week! 

HK







 




















Hello! 




I hope everyone is enjoying summer! I love it! Weeds and all!

So it has been one of those weeks with different people having similar issues. 

The one that stands out this week is nutritional.

A client of mine has been plagued with muscle/bone ache, some cramps and general malaise.  I checked her for misalignments, very few found.This client decided she would use some of the OsteoFX from the Longevity, a product I suggest on this site. 




For sometime I have been suggesting to women they monitor their calcium levels. This means they make a concentrated effort to make sure they are getting enough calcium in their diet. What is enough? Between 400mg-800mg a day, but we need to test for accurate dosage levels.




I have seen enough older men using walkers that calcium levels should be monitored for this group also. Low calcium can weaken bones, one of several factors.  I know conventional means don't offer this type of service usually, but it is a good idea to try to get a blood calcium level for yourself.

 


I also have known people who were allergic or intolerant to calcium and other minerals. This presents a problem of the body using what is there, thankfully we can address this and get to a better place with it.




In the first few days of a menstral cycle, a woman can lose up to 40% of her blood calcium. This can initiate cramps, among other things. 

So my recommendation has been, "Take extra Calcium, Calcium citrate with magnesium, the week before your period." Well, this has worked...when it is remembered. But we can do even better.....OsteoFX also contains trace minerals along with the calcium. Magnesium is used along with Calcium, there needs to be a balance.




The parathyroid gland is one of the glands responsible for calcium uptake. It is a very good idea for women AND men to have this evaluated. We can release any negative energies preventing this gland from performing up to it's proper levels.




Later in the day, I got a phone call from one very excited young woman! The ache in the hips was gone! It was gone within 20 minutes of taking the OsteoFX product and has not returned. I am very happy for her. We tested for dosages and she is well on her way to a happier life, healthier pain free life.




I really have a great respect for Dr. Wallach and his products because they work. I love his Essential Fatty acids, it is a great blend.




If you have chronic ache, it would be a good idea to get an evaluation to see if this product can help you. Not every ache is associated with calcium or mineral deficiency, but many are. 




Remember the 'old wives tale' of a "Tooth for every baby?" The mother's body will take minerals from the mother to produce a healthy child. Many times these minerals will come from the teeth, hence the tooth loss of mother. We have wonderful supplements today to prevent the degeneration of the mother's body. 




And for sure... let's not forget the roll calcium and magnesium play in heart health! It would be a very good idea to make sure your heart is happy with the supplements you take. 




Please take time to introduce yourself to good supplements.  We can always and should always do an evaluation to see what you may need, check for intolerances/allergies as well as checking the well being of your glands, organs and systems.




Have a great, pain free week!




HK







0

/