IRIDOLOGIST, ​FAMILY HERBALIST, CECP, CBCP
"Manifest better health starting today!"
Urinary concerns, for the Ladies
Concerns for the Ladies and the urinary system




I am hoping this is going to work... new website format, so one never knows.




Cranberry Juice.

We know it is great for helping get rid of kidney stones.

It is great for urinary tract infections.

And now.... how about this... It can help regulate the bladder!

So it seems for a few of us, cranberry juice helps calm the bladder?

Yes, it is beginning to seem so.

Less dribbling? Fewer trips to the bathroom in the middle of the night?

Sounder sleep?

Yeah, I know. Interesting.

For years we have known that Cranberry juice aids in ridding stones out of the kidneys, but some Drs. believe

excess could increase the stone formation. Jury is still out on that one.

And we know that Cranberry juice is good for cleansing the urinary system when there has been a Urinary Tract

Infection.

It also is used a preventative for UTIs.

So what about sleep? What about waking for nighttime urination?

Among some of my clients and family and self.... it seems to help this!

Who knew?!




So if you're experiencing the night time urination, it might pay off to try 4-8 oz of cranberry juice in the evening.




This made me question, 'Why?'

I started looking at the components of cranberry juice.

Nothing out of the ordinary, just good stuff.

Vit C, E, B6, K1, copper and manganese. And some stuff which is good, A-type proanthocyanidins, which prevents Bacteria from sticking to the tract.

Okay, that's all good. But then what?




What else is being affected?

It seems the LIVER is being affected, for the positive!

And the liver has a direct affect on sleep!

Okay... we are really getting somewhere now!

We know that if we detox the liver, sleep improves.

The liver becomes active in the early morning 1-3 am, according to Chinese Medicine.

It seems the liver can be POSITIVELY AFFECTED by cranberry juice!

GREAT!!! This then may improve sleep.




So the suggestion would be, try some Cranberry juice, use a good quality, 4-8 oz in the evening.

Then we come to the tablets. Yes! These can be used and they seem to be effective also, 2 in the evening.




I will not promise this will work for everyone, but so far we have had some very positive feed back.

We can always schedule a Body Code session for more information about the state of the body.




What about the gentlemen? Well, they have a few other issues to deal with. It won't hurt to try this, but I would suggest more intense evaluations with a Body Code session.




Have a great week with lots of good sleep!

Blessings,

Hk





















And we are almost into summer...well the calendar says we should be. 
Hope your weather is cooperating.
So what are some of your summer plans? Any hikes? Are the knees holding you back? 
I recently met with some 'almost' seniors and was a bit taken back by how many were dealing with knee pain. Yuck.
I consider most pain optional and I personally like to opt out.
I have addressed this several times, but whenever I experience something positive, I like to share. I want everyone to be as happy and healthy as possible.
Knee Pain?
What can be some of the causes?
Cartilage breakdown.
Misalignment of the pelvis
Misalignment of the vertebrae.
Pathogens.
Toxins.
Weak tendons.
Weak muscles.          
Adrenal issues can affect the left knee. 
Gall Bladder can affect the right knee.
Energy blockages in the knees. 
Lack of proper supplements.
Lack of exercise. 
I think this is the short list, I am sure there is more. 
It will be a bit different for different people. 
Body Code work can help solve the puzzle as to why there is pain. 
Then we can decide how to deal with it.
There are supplements we can choose from.
Glucosamine/chondroitin helps build tissue.
Gelatin will also help build tissue.
Vit C is a must. It can be a natural anti-inflammatory as well as a catalyst for healing. 
And one I have come across lately is the Omega 3. Not only is it good for bones, but is also good for tissue and joints. 
So I started taking an Omega 3 fish oil from the North Atlantic. I finally did a breakdown on my own nutritional needs and thought this would help in some of the stuff I was trying to address, such as eyes, hair etc. 
After the first month, that little annoying knee irritation seemed to be not so annoying. The knees weren't really sore, just tender at times. 
After month number two, I very seldom noticed the knees. Okay. Stairs? Hmm.... not much problem. 
After month number three, I forgot about the knees.
I have worked for sometime in cartilage rebuilding with gelatin, glucosamine and chondroitin, Vit C and minerals, just general good supplements. And I was taking an EFA, Essential Fatty Acid, complex with flax seed, borage and some fish oil. Apparently, not enough fish oil for what I was needing. 
When we look at oils, traditionally we use Flax for women and Fish for men. These have the precursors in the oils for hormone production. I would suggest testing to see which your body is in need of. Obviously, it is not a 'one size fits all' situation.
OMEGA 3 FISH OIL. 
What can it help? Ready for the novel?
Depression
Eye health
Brain health
  This is absolutely necessary when pregnant for the developing child's                 
  brain. 
  ADHD? You can get bubble gum flavored fish oil for children...and it 
  is shockingly good! 
  Alzheimers or dementia issues? Yep... this and maybe some Vit E. 
  Autism? This requires some definite helps. An evaluation between Cod 
  Liver oil or Omega 3 should be considered. 
Heart health
Blood factors, lowering triglycerides.
  Also will thin the blood, do not take if you are on blood thinners. This will
  be between you and your Dr. 
Insulin factors, helps with diabetics 
Joint and bone health, actually can boost the calcium levels in the bones.
Liver, helps with that fatty liver disease.
Skin, lots of nice moisture!
Sleep
And that is a partial list. 
When rebuilding, do not expect to have over-night results. We are so used to having everything quickly we become impatient. So guys, men, you are notorious for this! You cannot take this for three days and give up because you didn't see any improvement. Go for three weeks and we can talk. 
How much? Again, more is not always better. 
Two capsules day, is a good start. If your working with the brain, try doing one of these capsules at night as this is when the body does repairs. You will be giving building materials at the right time. 
For children, we can work with 1/2 tsp. 
And after healing has occurred, we can go to maintenance doses of supplements. And remember, the body IS DESIGNED to heal!
If in doubt, don't! 
Yes, you can be allergic to something here. That can be addressed if you feel this is the case. We can check. 
If you're not sure about this or any supplement, get some good advice. 
And check with your healthcare provider if you are on some prescription medications. 
Okay! See you on the trail!
Blessings,
Hkelly
Just as a reminder, these are MY opinions formed from MY experiences, but I find these very telling.
This is going to be a different post relative to health. I just connected a few dots after a conversation with a family member and clients.
So this week I have dealt with a few cases trapped emotions which were trapped by the individual during their early development, even in utero.
I have seen a negative emotion affecting bone marrow which was causing extreme tiredness. I have seen a negative emotion affecting an asthma situation, which when cleared the asthma was no longer a problem, among a few few other things . 
These energies were trapped by these individuals while IN utero, usually 3rd trimester.
One hundred years ago, women were considered in a 'delicate condition' when they were pregnant. There was extra care given to these women. Men always stood for a pregnant woman and allowed her to sit. No undo stress was placed on a woman. A woman was not even to 'look upon the face of death', it would be detrimental to the child. This time was called the 'days of confinement.'  Not a bad idea when you think about it. A pregnant woman is hard to be around at times. Having done this several times myself, there were times I just didn't like anyone….including my self. So isolating the pregnant woman from society wasn't a half bad idea at times. She was protected from some of the drama and illnesses of the day. The  woman was bringing a new life into this world and that pretty much was considered a miracle and pretty much respected. 
Did they go to an extreme with the treatment of the expectant mother?
After what I am seeing now, I would say NO!
The situations I described are varied in their history. I will give you the most recents:
The one with overall body pain, was conceived in a hostile marriage. The father was an unpredictable alcoholic, life was very unstable. And later that marriage ended.
The asthma client came from a pretty good marriage. Which leads me to think this trapped energy resulted from a negative experience the mother had.
Another client had an asthma condition, this was the result of a trapped energy inherited from the mother. Somewhere in this mother's past, someone had trapped this emotion and passed it on. Once cleared, so did the asthma.
Pregnant women are more emotional to begin with. The we add more stress and guess who might be the beneficiary of that stress?
The child. 
It seems I am seeing it in many cases.
This is NOT saying everyone who has issues had a negative developing environment. My point would be to try to eliminate these negative factors for the pregnant woman in hopes the offspring will be healthier and happier.
God has been very good to us, I feel it is time to be good to ourselves and our future generations. I am very thankful we have a method to improve our well being. 
Have a great week! Go kiss a baby and love again. 
Blessings....
Hkelly
ANTI-AGING, we're talking about the skin this time!
I am all for it...naturally of course. 
I have several daughters. I spent some time with them this last week and we started talking about skin, wrinkles, premature aging and the rest. The fact is, we ARE going to age, thankfully so as the alternative isn't all that great. The goal here would be to do it in the least painful way possible. 
For my age, and I am eternally 59 at this point, I have pretty good skin. So because my daughters are interested in MORE anti-aging info, I thought to share some of what is out there, at least what I have available right now. There is always more to know, this by no means is everything! No one knows everything!
These are just things which have come across my radar in the past few years. 
I occasionally have used very expensive products, but I find you don't need the most expensive products for good results. And there is also the nutritional factors here. What supplements does one use for warding off extra aging? Like I said, this is what is on my screen right now. It is NOT everything, I am sure.
Here we go!
B VITAMINS
I once read that one symptom of B 6 Vitamin deficiency was wrinkling around the mouth. Enough said! It isn't going to hurt to take a good brand of B-50 or B-100 complex. These are usually very balanced and you won't be getting too much of one or the other. B Vitamins are water soluble, so don't be afraid of getting too much, your kidneys will take out what you don't need. Beef, poultry, fish, garlic and greens are good sources of B 6 also. 
BETA CAROTENE
This converts to Vit A in the body. This is very much anti-wrinkling. Because it is water soluble, you can take it with very little fear of overdosing. Your kidneys will eliminate the excess. I take 50,000 u a day of this, you can use up to 75,000 a day before you start overdosing. (And this is also VERY good for your eyes!)
VITAMIN C
Vitamin C is great for many things. It also generates rapid cell repair. This is good for the skin. You may want to add 1000 mg a day of this to your diet also.
GELATIN!
And guess what else builds collagen? Yep... old fashioned gelatin. It is marvelous for the joints, the eyes, the hair, the nails AND even the SKIN! So how much do I use? 
Well, I use those packets from the grocery store and use one of those a day. I just blend it into my smoothie. It doesn't taste. After a few months, you may find you can maintain with 3-4 packets a week. I have one daughter who gets her gelatin in bulk from health food source on line. In that case she takes 1 tablespoon a day. (And this is marvelous if you have some joint pain!)
GLUCOSAMINE/CHONDROITIN
These also are some of the building blocks of collagen. And collagen keeps the skin elastic and full.  You may take a couple of these a day. You may end up not needing as much later just to maintain. (Also very good for your joints!)
EFAs
These are Essential Fatty Acids. Flaxseed is very good for women, it is a precursor to estrogen. Fish oil for men, flax for women. 
Depending again on your diet, 1000 u a day is a good start.
HORMONES?
Yep, we want those balanced. Some breakouts can be attributed to estrogen imbalance. 
MOISTURIZER!
My mother-in-law, RIP, had great looking skin. Her secret she said was to, "Moisturize, moisturize, MOISTURIZE!" I use a product called Dermae. It has Vit A in it among other natural ingredients. 
MINERALS!
If there is a shortage of minerals in the diet, this can also affect the skin. It is HIGHLY SUGGESTED you get a good mineral supplement. 
WATER! 
It is the number one element to enhance the skin. I had an esthetician(skin specialist) tell me she could tell who drinks enough water and who didn't by how wrinkled their skin was. I immediately started drinking more water! You need to be drinking about half your weight in ounces. You weigh 150 lbs, you drink 75 ounces of water a day. And this needs to be GOOD water. For sure it should be filtered in some way. And you need to be careful of bottled water, sometimes they have fluoride added and you don't want that. We can go into that more in another blog. 
ASEA GEL
Then one of the products I really like is ASEA GEL. It really nourishes the cell structure of the skin. I use it at night. 
Here is one 'interesting' idea: 
HEMORRHOID OINTMENT? 
Yep. It is purported to shrink tissue. So somebody somewhere decided to try it for the wrinkles on the face and had some great results with it. But there is one thing you might note, the ointment which will work the best for this comes from Canada. They have the yeast extract and shark liver oil which are some of the key ingredients for success. 
HYALURONIC ACID
This is added to many skin formulas. It is to help collagen formulation. I think there are some valuable applications with this. It is probably worth a try.
No doubt there are some things here which some gals will not be able to take or use as they, "Break me out!" Well, I wouldn't do that either! But let me remind you, this can be treated! If you are allergic or intolerant, you can always have a session to address that.
If you have questions about dosages, we can address that also.
I did some work for a gal who had a 'pregnancy mask' on part of her face. She was now 40 and wanted to know if I could work on it for her. Frankly, I was a bit skeptical and could not guarantee results. But we did some releases and about 10 months later her son noticed her face and asked what happened. Now without makeup, the dark mask around her face was gone. Well, that was inspirational! So having some darkness on both sides of my neck, I found I had a reason for them and did some releases. Are they gone? No, it hasn't been 10 months yet...BUT! They now are getting very molted looking, breaking up I guess you would say. So now I watch and wait. Many times there are toxicities in the skin which need to be addressed, some are related to gland toxicities. Thankfully, we can address those also. 
I HIGHLY suggest any supplements you take are of a good quality. Cheap isn't always the best, and also at times when you buy the most expensive you're paying for packaging. Just use caution, and get some suggestions. 
Right now I am researching which oils may be of benefit to the skin. So there will more coming on that. There just always is so much more to know!
We are going to age. We can do it well. But please remember, the best thing about your face will ALWAYS be your SMILE!
Keep smiling!
  "Put a smile on your kisser and someone may put a kiss on your smiler!"
Blessings...
Hkelly
As always, if you have concerns, please contact your preferred health care provider. 
The ultimate 
'I HATE TO EXERCISE PROGRAM'
I applauded my own efforts today when I exercised! Second time this week!!! While doing my exercise I thought it sad more people don't know about this. Then I thought maybe I was at fault. Not good. So here is some info about my..."I hate to exercise" program.
I like to walk, but sometimes that just isn't enough or I just don't do it. So here is my other option.
IF, I DO exercise I have a criteria: 
     It MUST Work! I need to see results!
     It MUST be easy! No fancy equipment or directions. And something I  
           don't have to travel for.
     It MUST take as little time as possible!
Yes, it is a tough criteria. Oh well... I found something that fits it all!
We are about to embark on that tradition, no, the other one, The  'New Years' resolution. Most of us have the same goals as the last 2-3 years, I know about this.
So if you want a little early Christmas present, you might consider the T-Tapp exercise solution.
Here is some of what happens when you use it:
     It WORKS
     It is EASY
     It SHOWS RESULTS
     It WORKS IN 3 SESSIONS A WEEK! (best part)
             and…
     It MOVES LYMPH…
LOVE THIS PROGRAM!
Moving lymph is really important. Lymph does NOT have a circulatory system. It moves from area to area via muscle action, skin brushing or use of a mini tramp.  
When lymph doesn't move, you become acidic, arthritic and basically ill. Your lymph carries lots of toxins out and lots of anti bodies in. And that would be a whole other blog which I will get to….
AND let me remind you! If your lymphatic system is out whack, you will be also and it won't matter HOW much exercise you do! This affects the immune system. Logic tells me it is a great idea to remove any negative energy blockages or toxins which might be affecting this system, or others. Diet and detoxes along with the Body Code usually get people going in the right direction.
Back to THE exercise:
How did I get into this exercise program? 
I visited my daughter who was into this exercise program and couldn't stop raving over it.  Yeah.. yeah… yeah….I really didn't think there were programs out there I hadn't heard about. And most touted miraculous results if you beat yourself up long enough. 
Hey, I am not into wearing myself out.. I need to last!
My daughter threw on a t-shirt and some capris and I noticed there was less of her to notice… hmmm…. was this program doing THAT for her?
I exercised with her, not bad… I didn't feel like I needed cardiac resuscitation when finished. 
Okay….. so far so good….
And it lasted what…. 15 MINUTES? 
Hmm…. this is GOOD….
Then I listened to the lecture… it made perfect sense! This gal is well educated and is her own personal experiment. I have great respect for those types of people. And she spoke of the importance of lymph movement and how to move it with exercise! LYMPH?? I had studied that, its role and importance!
Okay…. I am listening now!
Hello, Teresa Tapp and the T-Tapp method of exercise.
On the the lecture DVD you learn all you need to know about the whys and hows of this program.
So let's see:
I get results after a few days…. check
I don't need anything else to exercise with…. check (do use a DVD player)
It moves lymph…check (everyone NEEDS that!)
Most anyone can do it… it is just that simple.
Helps balance hormones.
It helps with gestational diabetes.
This exercise routine lasts 15-18 minutes…. ONLY 3 times a week…. love it! And… it is energizing!!!!
Or you can do the longer work out. Why you would want to I don't know…
So there you have my reasons for choosing this program. 
I suggest if you hate exercise programs, you check this one out. 
If you can tolerate a light exercise 15-18 minutes, 3 times a week, you will be impressed by the results… and you will helping your body detox simply by moving the lymph! Oh, yeah… drink lots water and drink distilled if you want to detox even more. 
I must put a disclaimer here: If you are harboring negative energy, lots of toxicities and it is blocking glands or organs, you do need to get those released to gain the absolute best,above average out come for your exercise program. You already know what you should or shouldn't be eating! ;-) 
Here's hoping you have a wonderful, energetic week!  If not lets get some of those negative energy blockages and other stuff out of the way and be ready for the next week!
Blessings... 
HK
P.S. Don't forget to check out Berei!!! She is 75 years old, off many medications and looking good... my icon!
GO TO PRODUCTS PAGE and click on the T-Tapp info. You should end up on the T-Tapp home page. Check out the testimonials, BEREI'S!, at the bottom of the page. If you decide to order, just be sure to get the Fit and Fabulous WITH the lecture. You MUST listen to the lecture to find out why and how it works.

After this month of mourning due to our loss of Robbin Williams, I thought we would hit this DEPRESSION topic.
If you are alive, you no doubt have had a round of this.
SYMPTOMS:
No energy, loss of energy
Feelings of worthlessness, self loathing, unloved
Feeling trapped 
Feelings of helplessness and hopelessness
Loss of interest in daily activities/ no zest for life
Appetite or weight changes, uncontrolled eating
Sleep changes/sleeping beyond normal times, not sleeping
Anger or irritability
Reckless behavior.
Everybody has an off day or two or week. If yours is lingering beyond a couple of weeks, ask an honest person what they think about your symptoms. And know there is help out there for you. You CAN get to a better place. 
SOME THINGS WE CONSIDER:
Hormones after pregnancy will often generate a depression.
Stress is a big factor for depression. 
Change is always uncomfortable, and it doesn't matter whether it is a good change or a negative one. Lifestyle change, marriage, divorce, death, birth
Chronic health issue causing pain, this can be very depressing
And there is more probably, we just don't know everything about everything.
Did you know you can also see a symptom for depression in the eyes? Yep, in the brain flare area in the top of the iris. We would then also look for the cause. 
So holistically what are approaches for countering Depression?
Let's start with the physical stuff. And please understand... this isn't everything!
B-VITAMINS. A full range of Bs is a very good place to start. If you're in the midst of a depression, go for the B-100s. These are the BRAIN vitamins! They help balance the brain. Sometimes people are allergic or intolerant to the Bs, this needs to be evaluated and addressed. B vitamins are water soluble and do not build up in the system.
Vit D. This is the sunshine vitamin. Many seasonal disorders are helped when Vit D3 is added to the diet. A maintenance dosage is 4-5000 U a day makes a world of difference! If you are very depleted, you may need a higher dose for a week or two. I have heard the "But I am taking 400 U because that is what was recommended."  Well, this is your choice. You are overdosing when you take over 10,000 U a day... and that is questionable. On a nice sunny summer afternoon, your body will make up to 50,000 U and you usually don't have much illness in the summer. Go figure. Vit. D is highly under emphasized in my always humble opinion.
EFAs, Essential Fatty Acids, are also important. These help feed the brain. Flaxseed oil is good for women and Fish oil is good for men. I really like the EFAs Dr. Wallach developed, see products page. I must mention some people are allergic or intolerant of oils, this sometimes is why they don't see results from some of their supplements. We can address this.  
Adequate PROTEIN will help keep the sugar level stable in the body and brain. Nuts make a really good snack, and they are loaded with protein. 
Sometimes a good MINERAL SUPPLEMENT is necessary. We can do an evaluation for this and all the other supplements in question.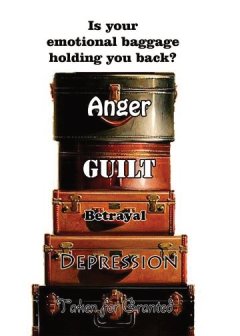 Now let's address emotional issues. 
If you have to go through and airport and drag all of these suitcases with you, it will be exhausting. Going through life and dragging all this with you is exhausting on a long term level... and it can become depressing. 
This week I had a great experience with a client. She has suffered from depression for years. Her husband died 30 years ago, a good friend dropped her a few years later.
She had a miserable, abusive childhood.
So after two sessions addressing the reasons for depression, Client's friend calls me and says they aren't sure how to handle the 'NEW' girl! This client is happy and singing! And.. moving forward with her life now! This isn't an instant fix, it takes about a week to see the difference, but in this case it was quite fast. 
A heart wall, is created by the body as a virtual shield placed around the heart to protect it. This happens when the heart has been close to breaking, the body feels the need to protect it. The only trouble is this shield is made up of the negative energies lying around in the body. This shield, heart wall, prevents the messages of the heart from easily getting out, like wise it prevents messages to the heart to easily arrive. And lets remember, the heart is the second brain, it IS important. The heart TELLS the brain what to feel. The brain does not have feelings. I love you with all my.... HEART! Follow your HEART! I left my HEART in...We never sing about our brain.
So for the Client, we released several heart walls, created at different critical times in her life. 
We also released negative emotions from certain events and memories in her life.
I love watching this transformation! And hearing about it!
Should you start feeling better and you are on medication, DO NOT STOP YOUR MEDICATION WITHOUT YOUR DR.S HELP! Your medication program is between you and your Dr. and he needs to help you wean off. 
After sessions, there have been people who find they can reduce their levels of medication and some find they actually can wean off of medication, with their Dr.s help.
If there was one message that needs to be broadcast, it is...
                          THERE IS HELP! Please don't give up!
Why not go for a miracle? There are some great blessings awaiting those who go after them.
Have a happy week! 
HK
Hello! 
I hope everyone is enjoying summer! I love it! Weeds and all!
So it has been one of those weeks with different people having similar issues. 
The one that stands out this week is nutritional.
A client of mine has been plagued with muscle/bone ache, some cramps and general malaise.  I checked her for misalignments, very few found.This client decided she would use some of the OsteoFX from the Longevity, a product I suggest on this site. 
For sometime I have been suggesting to women they monitor their calcium levels. This means they make a concentrated effort to make sure they are getting enough calcium in their diet. What is enough? Between 400mg-800mg a day, but we need to test for accurate dosage levels.
I have seen enough older men using walkers that calcium levels should be monitored for this group also. Low calcium can weaken bones, one of several factors.  I know conventional means don't offer this type of service usually, but it is a good idea to try to get a blood calcium level for yourself.
I also have known people who were allergic or intolerant to calcium and other minerals. This presents a problem of the body using what is there, thankfully we can address this and get to a better place with it.
In the first few days of a menstral cycle, a woman can lose up to 40% of her blood calcium. This can initiate cramps, among other things. 
So my recommendation has been, "Take extra Calcium, Calcium citrate with magnesium, the week before your period." Well, this has worked...when it is remembered. But we can do even better.....OsteoFX also contains trace minerals along with the calcium. Magnesium is used along with Calcium, there needs to be a balance.
The parathyroid gland is one of the glands responsible for calcium uptake. It is a very good idea for women AND men to have this evaluated. We can release any negative energies preventing this gland from performing up to it's proper levels.
Later in the day, I got a phone call from one very excited young woman! The ache in the hips was gone! It was gone within 20 minutes of taking the OsteoFX product and has not returned. I am very happy for her. We tested for dosages and she is well on her way to a happier life, healthier pain free life.
I really have a great respect for Dr. Wallach and his products because they work. I love his Essential Fatty acids, it is a great blend.
If you have chronic ache, it would be a good idea to get an evaluation to see if this product can help you. Not every ache is associated with calcium or mineral deficiency, but many are. 
Remember the 'old wives tale' of a "Tooth for every baby?" The mother's body will take minerals from the mother to produce a healthy child. Many times these minerals will come from the teeth, hence the tooth loss of mother. We have wonderful supplements today to prevent the degeneration of the mother's body. 
And for sure... let's not forget the roll calcium and magnesium play in heart health! It would be a very good idea to make sure your heart is happy with the supplements you take. 
Please take time to introduce yourself to good supplements.  We can always and should always do an evaluation to see what you may need, check for intolerances/allergies as well as checking the well being of your glands, organs and systems.
Have a great, pain free week!
HK
Well, we just got our latest bundle of joy!
Little Isabel came a couple of weeks early, but is happy and healthy.
We had a little problem with her bilirubin count, maybe because she was young… then maybe not.
So all this makes me think we need to address some issues about having a baby! I didn't think to tell the mom-to-be what she could do about that biliRubin count BEFORE she had the baby. Her first baby wasn't affected…. Hmm… 'cobbler's kids have no shoes' type syndrome.
Dr. Christopher preached 'good health' of the parents was a prerequisite for a healthy child. I grew up on a dairy farm. My dad always took care to feed his livestock well so they would produce good quality milk and calves. People are no different in that respect. A diet of fast food and prepackaged food is not going reap the benefits of a healthy next generation.
So proper nutrition is vital.
Morning sickness..
We have mother's who get violently ill when pregnant. There are tons of good remedies out there. One of my favs  is the addition of 
B6 into the diet. 
For many, this is a magic bullet to take care of the morning sickness. 
And NOW we have TEC and BC, to release negative energies which could be causing the morning sickness. This has worked in numerous cases.
Mom's-to-be need a very good supplement program. 
Fish oil is vital if you want a brilliant child.
Calcium/magnesium is vital if you want to avoid the leg cramps and provide the  building blocks for good jaw and bone structure in the developing child. My old family dentist told me there was an 'old wives tale' that goes, "A tooth for every baby." It is true, to some extent, the developing body of the child requires minerals and the mother's body will just supply it for the child risking its own supply. Hence we can have a very weak mother when the child is born.
A good multi vitamin is also necessary, Standard Process has a good one, and you need more than 2 a day.
Minerals should be considered if your multi isn't supplying them. 
One great way to get some minerals and vitamins into the diet and also help the whole uterine area is to drink
RED RASPBERRY LEAF TEA, one cup a day. It is an excellent tonic for the mom.
One good, easy, and tasty way to increase the nutrition would be a fruit/ vegi smoothie. 
And for sure I would consider adding the TANGY TANGERINE mineral and vitamin supplement into this smoothie. This is one tasty way to get the vitamins and minerals you need. Check the products section for this. The EFA's, essential fatty acids, are excellent also!
We also were told, years ago, that after the meal, the mother should lie down on her right side for 1/2 hour. Or at least after lunch. Oh… I know… we just couldn't take time out for that! But maybe we should start…..
Exercise is great! 
You just can't beat the old fashioned "Walk." I worked with a little gal from Australia. She popped out 8-9lb babies with out a problem. She attributed it to walking. They had only one car at the time so she just walked if she needed something. My Dad always told me to get out and walk and swing my arms. And I have become a big proponent of walking.
Sometimes there is a problem with constipation. Uggghh….
There are several things you might try.
Stewed prunes first thing in the am. They are loaded with nutrients and will do a nice job… usually. Just 5-10… and drink the water you heated them in.
Try some fresh apples before bed.
Some times a little olive oil, 2Tb. before bed, also helps. I didn't say it would be delicious! Just mix with a little OJ and shoot it to the back of the throat.
But better yet than olive oil would be coconut oil! You can just eat it off the spoon and it tastes pretty darn good. It sometimes helps. Be sure you are drinking plenty of water! Oh, I didn't put that in here!
Check with your health care provider for more suggestions. 
HYDRATION!!! Sometimes that swelling is your tissues crying for more water. They need to be flushed. And those Braxton-Hicks contractions are often caused by not enough water. DRINK! WATER!
INDIGESTION???
Oh… WOW! Here is an unusual remedy.
Try drinking buttermilk before bed. Don't wash it down with anything. It does a nice job. This was discovered by accident and has worked very well for many moms. It does help one sleep also… that is how we discovered it works well for indigestion!
And what about that Bilirubin count.
This is where the liver is not processing the extra cells as quickly as needed. The mother's liver has been doing the work for both the mother and child before birth. Well, if the mother's liver is sluggish, there is going to be more for the infants' liver to do. During the last trimester, you can drink some lemon juice in water to rejuvinate that liver. I had several jaundiced babies, but none after I did the lemon juice/water drink. 
1/2 lemon squeezed into 1 qt of water to be drank each day during the last trimester. It is delicious! And is a good little tonic for the liver.
Then we get to the last month or 6 weeks of pregnancy. And delivery now becomes real…. !
Birth Prep formula by Dr. Christopher is a MUST! 
Just follow the directions on the bottle, these are an herbal capsule. I took this with my last 3 pregnancies, I had 3 without. Yes… this works! I would NEVER dream of doing a delivery without it. Does it solve all the problems? No. 
I know one young mother who took it and had a C section, baby was breech. Then she had another pregnancy and C section, again taking the formula. Well, the last pregnancy she knew would be a C section so she just skipped the Birth Prep. She learned first hand that this formula will cut your recovery time in HALF! It is a little late to do anything about it after delivery, but you can take it and it will probably help get your hormones back a more normal state, which is what we do after delivery anyway, just 2 capsules a day for the first week post labor.
What does this Birth Prep formula do?
The first thing it does is encourage elasticity in the tissues. This is good if you want to deliver naturally. 
It also seems to expedite a labor.
Then it checks the hormones, they will balance quicker.
And it seems to help with un-necessary bleeding after delivery.
And for sure… it cuts the recovery time IN HALF! 
Is it safe medically?
Well, my girlfriend took it to her Dr. for review. The only thing he could promise her was she would not have pink elephants in her living room. He considered it benign. This is also the girlfriend who would hemorrhage after delivery… except the last delivery after she used the formula the uterus seemed to just progress normally with minimal bleeding.
So the little bundle of joy enters the world and life is upside down for a few weeks while everyone gets on a schedule.
The new mother needs rest, some good food and good company. But in moderation.
If there has been an episiotomy, 
a little oil from a Vit. E capsule applied only ONCE a day to the site can really help the healing. Also a spray of colloidal silver is very helpful.
Mom should not be carrying anything heavier than the baby for 2 weeks.
This does not include the baby in one of those half ton carriers either! 
For one week after delivery, 2 capsules of Birth Prep formula each day will help the healing, the hormones and the emotions to start balancing.
Milk supply is directly affected by how much fluid the mother drinks and how dedicated she is to nursing. The mom should be drinking, water, every time she goes to nurse and in between times. Nursed babies will eat every 2-3 hours, just get used to having your shirt undone for 3 months. After 3 months the payoff begins! There are a few things that will hinder success, like sore nipples. Be sure to get some of 
Dr. Christopher's Complete tissue formula to use on those nipples and also give them plenty of dry air time. This formula will not affect the infant. 
And what if you eat something offensive to the baby… ours does not do chocolate! We use yogurt to neutralize the milk. Mom just has some yogurt everyday and we get along pretty well… and stay off the chocolate. Other offenders might be cruciferous vegi's like broccoli, cabbage or cauliflower. Go easy on these while you figure out if you can indulge. After about 3 months, you can be pretty open with what you eat. I would always suggest no caffeine while nursing.
We were offered the Hep B vaccine before leaving the hospital. It was refused. The reasoning for the refusal goes like this:
Hepatitis B is resultant from drug use and sexual activity. I find it hard to believe a baby going home in America would be subject to either. But I guess it happens. But since we weren't in that profile, the vaccine was refused.
From my own observation, I have noticed a continuing pattern. The nursery is quiet in the hospital. Upon leaving the hospital the vaccine is administered. It is NOT QUIET AT HOME! 
I have seen some unhappy babies and I have seen some happy babies. One thing in common with most all the unhappy babies is, they received the Hep B vaccine. 
I have never seen full term infant with acid reflux who has not also had the Hep B vaccine. This is an 'old man's' disease. And it is treated with antacids. Where/when did this ever become normal?
Every infant I have seen with a breathing problem, has also had a Hep B vaccine. I have seen some breathing problems without the vaccine, but every infant with breathing problems has had the vaccine.
Every infant I have seen with colic, today, has had the Hep B vaccine. 
This is as good a reason as any for not vaccinating an infant while in the nursery, that is why it is nice and quiet there.
Every symptom I have listed here, and more, is listed on the product information insert sheet with the vaccine. You can look this up on line, don't take my word for it! I did look it up and made more correlations. 
And sometimes a really unhappy baby will benefit with trip to a chiropractor. I had one grand-daughter who was sooooo miserable and also so was anyone who was around for any length of time. My Chiropractor checked her out and found out that her C1 Atlas in the neck was out. Hey…. it isn't easy getting born! He lined her up and WAA.. LAA!!! HAPPY BABY! And happy parents and grand parents and aunts and……
Those old country docs who held the infant up by their heels and smacked their bottom was actually doing everyone a favor. This suspension also will align the vertebrae in the neck and back! (I just nix the smacking part!)
Since now I work in releasing negative energies, I think I will make a statement or two about pregnant women.
Years ago, the condition was considered delicate. A pregnant woman was not even supposed to look upon the face of death as it would mark her child. I will concede there may have been some extreme practices concerning the pregnant woman. 
Today, these women run marathons, work full time and possibly hustle another child around. Okay… if that is what you choose.
But let me tell you some of what I see.
When I first started work with TEC, I worked with a gentleman who had a very active case of asthma. He suffered for years. I treated him for a negative energy he had acquired in the 3rd trimester of pregnancy, some energy  his mother had been afflicted with and he had absorbed. When we cleared this energy it also lessened the symptoms of the asthma. I don't know that he has used an inhaler since. Is every case of asthma associated with an energy acquired in the 3rd trimester? Absolutely not. This is just how this individual was affected.
Since then, I have released from many individuals,  trapped energies acquired during the 2nd and 3rd trimester. Some of these affect the pancreas, or lungs as well as other areas. 
I have developed a real concern for the health of the next generation relative to what I am seeing. If we want a healthy next generation, we better start taking care of the current one. I am now campaigning to take better care of the mothers-to-be. Pregnancy isn't a time to try to be a super woman. You are super enough if you are preparing a little body to enter this world to make it a better place. Stress should be kept at a minimum. Rest and nutrition are primo. 
There was another old fashioned way of dealing with a pregnant woman, they called it "days of confinement." This one might be a keeper…. they just put the pregnant woman off to herself, away from the public. The mother-to-be, more often than not, can't stand herself, or anyone else and well….  Considering how hormonal a pregnant woman can be, this might not be too bad of an idea to resurrect, just thinking out loud here….
;-) (I am not all that serious here!)
So here is to all those mother's-to-be! 
You make the world go around! 
Thank you!
Now go lie down…. 
Have a happy baby!
HK
Please check with your health care provider if you have serious questions about your pregnancy
/