IRIDOLOGIST, ​FAMILY HERBALIST, CECP, CBCP
"Manifest better health starting today!"
Urinary concerns, for the Ladies
Concerns for the Ladies and the urinary system




I am hoping this is going to work... new website format, so one never knows.




Cranberry Juice.

We know it is great for helping get rid of kidney stones.

It is great for urinary tract infections.

And now.... how about this... It can help regulate the bladder!

So it seems for a few of us, cranberry juice helps calm the bladder?

Yes, it is beginning to seem so.

Less dribbling? Fewer trips to the bathroom in the middle of the night?

Sounder sleep?

Yeah, I know. Interesting.

For years we have known that Cranberry juice aids in ridding stones out of the kidneys, but some Drs. believe

excess could increase the stone formation. Jury is still out on that one.

And we know that Cranberry juice is good for cleansing the urinary system when there has been a Urinary Tract

Infection.

It also is used a preventative for UTIs.

So what about sleep? What about waking for nighttime urination?

Among some of my clients and family and self.... it seems to help this!

Who knew?!




So if you're experiencing the night time urination, it might pay off to try 4-8 oz of cranberry juice in the evening.




This made me question, 'Why?'

I started looking at the components of cranberry juice.

Nothing out of the ordinary, just good stuff.

Vit C, E, B6, K1, copper and manganese. And some stuff which is good, A-type proanthocyanidins, which prevents Bacteria from sticking to the tract.

Okay, that's all good. But then what?




What else is being affected?

It seems the LIVER is being affected, for the positive!

And the liver has a direct affect on sleep!

Okay... we are really getting somewhere now!

We know that if we detox the liver, sleep improves.

The liver becomes active in the early morning 1-3 am, according to Chinese Medicine.

It seems the liver can be POSITIVELY AFFECTED by cranberry juice!

GREAT!!! This then may improve sleep.




So the suggestion would be, try some Cranberry juice, use a good quality, 4-8 oz in the evening.

Then we come to the tablets. Yes! These can be used and they seem to be effective also, 2 in the evening.




I will not promise this will work for everyone, but so far we have had some very positive feed back.

We can always schedule a Body Code session for more information about the state of the body.




What about the gentlemen? Well, they have a few other issues to deal with. It won't hurt to try this, but I would suggest more intense evaluations with a Body Code session.




Have a great week with lots of good sleep!

Blessings,

Hk





















| | |
| --- | --- |
| Posted on September 1, 2014 at 10:24 AM | |
After this month of mourning due to our loss of Robbin Williams, I thought we would hit this DEPRESSION topic.
If you are alive, you no doubt have had a round of this.
SYMPTOMS:
No energy, loss of energy
Feelings of worthlessness, self loathing, unloved
Feeling trapped 
Feelings of helplessness and hopelessness
Loss of interest in daily activities/ no zest for life
Appetite or weight changes, uncontrolled eating
Sleep changes/sleeping beyond normal times, not sleeping
Anger or irritability
Reckless behavior.
Everybody has an off day or two or week. If yours is lingering beyond a couple of weeks, ask an honest person what they think about your symptoms. And know there is help out there for you. You CAN get to a better place. 
SOME THINGS WE CONSIDER:
Hormones after pregnancy will often generate a depression.
Stress is a big factor for depression. 
Change is always uncomfortable, and it doesn't matter whether it is a good change or a negative one. Lifestyle change, marriage, divorce, death, birth
Chronic health issue causing pain, this can be very depressing
And there is more probably, we just don't know everything about everything.
Did you know you can also see a symptom for depression in the eyes? Yep, in the brain flare area in the top of the iris. We would then also look for the cause. 
So holistically what are approaches for countering Depression?
Let's start with the physical stuff. And please understand... this isn't everything!
B-VITAMINS. A full range of Bs is a very good place to start. If you're in the midst of a depression, go for the B-100s. These are the BRAIN vitamins! They help balance the brain. Sometimes people are allergic or intolerant to the Bs, this needs to be evaluated and addressed. B vitamins are water soluble and do not build up in the system.
Vit D. This is the sunshine vitamin. Many seasonal disorders are helped when Vit D3 is added to the diet. A maintenance dosage is 4-5000 U a day makes a world of difference! If you are very depleted, you may need a higher dose for a week or two. I have heard the "But I am taking 400 U because that is what was recommended."  Well, this is your choice. You are overdosing when you take over 10,000 U a day... and that is questionable. On a nice sunny summer afternoon, your body will make up to 50,000 U and you usually don't have much illness in the summer. Go figure. Vit. D is highly under emphasized in my always humble opinion.
EFAs, Essential Fatty Acids, are also important. These help feed the brain. Flaxseed oil is good for women and Fish oil is good for men. I really like the EFAs Dr. Wallach developed, see products page. I must mention some people are allergic or intolerant of oils, this sometimes is why they don't see results from some of their supplements. We can address this.  
Adequate PROTEIN will help keep the sugar level stable in the body and brain. Nuts make a really good snack, and they are loaded with protein. 
Sometimes a good MINERAL SUPPLEMENT is necessary. We can do an evaluation for this and all the other supplements in question.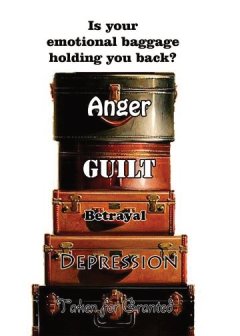 Now let's address emotional issues. 
If you have to go through and airport and drag all of these suitcases with you, it will be exhausting. Going through life and dragging all this with you is exhausting on a long term level... and it can become depressing. 
This week I had a great experience with a client. She has suffered from depression for years. Her husband died 30 years ago, a good friend dropped her a few years later.
She had a miserable, abusive childhood.
So after two sessions addressing the reasons for depression, Client's friend calls me and says they aren't sure how to handle the 'NEW' girl! This client is happy and singing! And.. moving forward with her life now! This isn't an instant fix, it takes about a week to see the difference, but in this case it was quite fast. 
A heart wall, is created by the body as a virtual shield placed around the heart to protect it. This happens when the heart has been close to breaking, the body feels the need to protect it. The only trouble is this shield is made up of the negative energies lying around in the body. This shield, heart wall, prevents the messages of the heart from easily getting out, like wise it prevents messages to the heart to easily arrive. And lets remember, the heart is the second brain, it IS important. The heart TELLS the brain what to feel. The brain does not have feelings. I love you with all my.... HEART! Follow your HEART! I left my HEART in...We never sing about our brain.
So for the Client, we released several heart walls, created at different critical times in her life. 
We also released negative emotions from certain events and memories in her life.
I love watching this transformation! And hearing about it!
Should you start feeling better and you are on medication, DO NOT STOP YOUR MEDICATION WITHOUT YOUR DR.S HELP! Your medication program is between you and your Dr. and he needs to help you wean off. 
After sessions, there have been people who find they can reduce their levels of medication and some find they actually can wean off of medication, with their Dr.s help.
If there was one message that needs to be broadcast, it is...
                          THERE IS HELP! Please don't give up!
Why not go for a miracle? There are some great blessings awaiting those who go after them.
Have a happy week! 
HK
Categories: Allergies/Intolerances, Brain, Depression, Estrogen balance, Gland imbalance, Heart health, Heart walls, Hormone balance, Iridology and TEC, Mineral supplements, Nutrition, Paranoia, Pregnancy, Supplements, The brain, Trapped emotions, Weight loss/gain
/